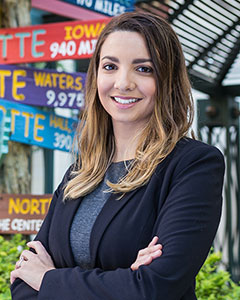 Ana Gonzalez
---
Office Manager
Ana was born in Guatemala City, in Central America and came to the United States very young at the age of seven. She grew up in Long Island, New York, spent time in California and finally found her home in Gastonia, North Carolina.
She is Bilingual; fluent in English and Spanish. Ana's experience includes working in private practice and courthouses. Ana also has experience in all aspects of legal office administration, including assisting attorney's in preparing for trials, depositions, preparing and serving discovery and heavy translating with attorney/client meetings and highly confidential documents. Soon after graduating Brentwood High School in New York, Ana traveled to Guatemala City where she took advantage of being there for the summer and attended the summer semester and took the legal courses that were offered in The University of San Carlos in Guatemala City. She graduated from Southern California Regional Occupation Center with certifications in Legal Occupations, Microsoft Office Applications and in Veterinary Science. Ana is also a Notary Public and she holds a Human Resources Certificate from CPCC.
Ana is a big animal lover and has volunteered with Whiskers and Tails where she fostered homeless dogs and helped them find forever homes. She has also volunteered in animal shelters and hopes to continue giving back to the animal community. Ana is also a foodie and enjoys cooking and trying new recipes. She looks forward one day to having her own vegetable and herb garden. When she is not in the office giving her all to our clients, she is out hiking or attending Zumba classes. She looks forward to getting back to painting, which is one of her passions and also kickboxing as well. Ana is a true adventurer. Ana used her move from California to North Carolina into a special road trip and stopped at two of the seven wonders of the United States including the Grand Canyon in Arizona and the Gateway Arch in St. Louis, Missouri. She brings all that energy and enthusiasm to our office when she deals with our clients and opposing counsel. Ana's diverse experience in the legal field makes her a great addition to the McIlveen Family Law Firm.