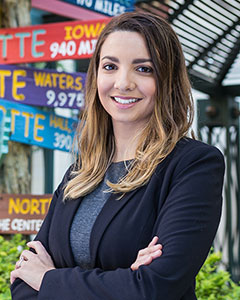 Andria Marquez
---
Associate Attorney
I am an extrovert who takes pride in resolving complex family issues. Whether it your case is resolved in mediation or litigation I ensure that you are educated and fully prepared every step of the way. I have always been known for my active listening and I will not only hear you, but will listen to you so that together we can achieve the best possible results.
As the youngest of a blended family of five children I have always been interested in the inner workings of family law. I understand the difficulties related to the separation and combining of families because I have been through it myself.
I was raised in Miami, Florida by two loving parents who, despite having gone through two divorces of their own, are still happily married. I attended Flagler College in Saint Augustine, Florida and focused on Political Science, Pre-Law, and International Studies, knowing that law school was in my future. There, I interned for the Saint Augustine State Attorney's Office where I found my passion for litigation. I moved to North Carolina with my husband to attend Wake Forest University School of Law, and we fell in love with this state's beautiful mountains and beaches.
In law school I assisted low-income individuals through numerous pro bono projects. Through these projects I was able to immerse myself in the legal profession while helping underprivileged members of the community. I took courses in trial advocacy and family law and improved my courtroom skills and knowledge of North Carolina family law. After my first year of law school, I was able to put my knowledge to practice as a summer law clerk for a small family law firm in Winston-Salem and by participating in a program at Wake Forest called the Child Advocacy Clinic. As a part of the clinic I acted as Guardian ad Litem to children in domestic violence and high-conflict custody cases. As a GAL I spoke to children, teachers, and family members and made recommendations regarding those children to the court. I worked for several family law firms and each of them taught me invaluable skills about navigating the legal system that I utilize in practice as an attorney.
I became a family law attorney because I saw the positive difference an attorney can make for a family and I wanted to be that person for others. I will work diligently to ensure that we reach the best possible outcome in your case. I am compassionate in my practice and cognizant of the difficulties surrounding your unique situation. If you are coming into my office, it is probably because you and your family are in the midst of a difficult situation. I will work hard every step of the way so that you have one less worry during this stressful time in your life.
MEMBERSHIPS AND AFFILIATIONS
EDUCATION
D., Wake Forest University School of Law
Child Advocacy Clinic
Litigation Clinic
Pro Bono Honor Society
American Academy of Matrimonial Lawyers: North Carolina Chapter Law Student Award
A., magna cum laude, Flagler College