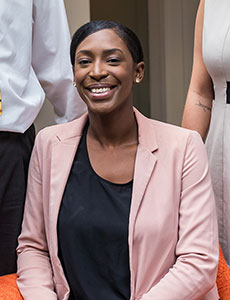 Aquila Jenkins
---
Outbound Agent
I believe that anything worth doing should be done with passion and helping others is no different. Ever since I was younger, I have been passionate about helping others. Along with strong ethical convictions of right and wrong, I figured I would end up in the legal field but family law has seemed to have truly captured my heart.
I was born in Charleston and raised in Summerville, South Carolina. I recently obtained a bachelor's degree in English, with a minor in Political Science, from Winthrop University May of 2015.
At McIlveen Family Law Firm, I've had the opportunity to experience the positive impact that one person can have on another during one of the most difficult times of their lives. As an Account Representative, I am provided with the opportunity daily to help potential clients find an attorney that best fits their situation while making sure each person knows, they don't have to go through it alone.
I attribute that empathetic nature in large part to a childhood spent with a former marine stepfather and an active duty army solider for a mother. Although I am no stranger to order and structure, caring for my sister at a young age while my mother was deployed in Iraq, really nurtured a sense of compassion within me. Having to eventually experience the break in our family dynamic as my parents split up along with the affect that the situation had on my younger sister, showed me that everyone should have a helping hand in difficult times. I truly believe that this reflects in the way I communicate with our clients.
I enjoy reading, networking, cooking and am currently studying for the LSAT to pursue my lifelong dream of being an attorney. I am very excited to be working for a firm that not only exhibits the same passions that I have but is also founded on the values that mean so much to me.