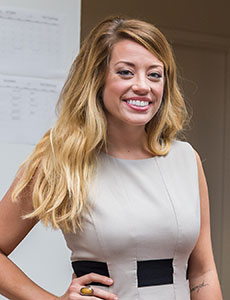 Katie Pritchard
---
Billing Coordinator
When faced with these unexpected changes in family dynamic, our clients often feel like their lives are beginning to unravel. Katie is passionate about providing support and a sense of control for our clients throughout their case. She is always willing to go above and beyond and is constantly seeking out new ways to assist our clients.
Katie was born and raised in Raleigh, North Carolina. Being raised by a single mother, Katie experienced the difficulties of growing up in a split family. This emotionally demanding situation fostered a close relationship with her mother, who taught her the importance of perseverance. She thrived from the unconditional support and encouragement she received. Katie decided she wanted to have the opportunity to provide support and guidance to others going through a similar, and very familiar, life change.
She moved to Charlotte to attend the University of North Carolina at Charlotte to pursue a Bachelor's degree in Psychology with a minor in Criminal Justice. Scholarship has always been a high priority for Katie, as she was able to graduate cum laude in just three years, in addition to being an active member of Chi Omega Fraternity and Psi Chi International Honors Society. She continued her education and aspired to grow her knowledge of the legal field by pursuing a Post Baccalaureate Diploma in Paralegal Technology.