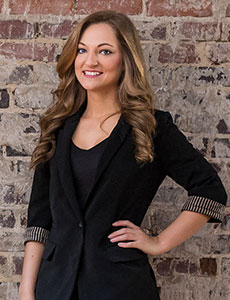 Kayla Martin
---
Marketing Qualifier
Kayla was born and raised in Clover, South Carolina. At just five years old, her and her two older brothers were forced to accept the very adult effects of their parents divorcing. Regardless of this, Kayla seemed to have a relatively normal childhood and continued to be a very positive and outgoing child. As she grew up she realized her mother's transparency on the details of the situation took a toll on her view of marriage and ignited her passion for helping people in any way that she could.
Kayla was always diligently involved in her church organization and enjoyed the feeling she got from volunteering her time to help others. She received her diploma from Clover High School in 2013 and she was unsure of which career path to pursue. While working at a gym, being a waitress, and attending York Technical College full time, Kayla decided her interests would be best put to use in a full time human resources position. She is currently working as the Marketing Qualifier at the firm and she is taking the necessary steps to eventually take on a human resources role.
In her spare time Kayla enjoys an active lifestyle frequently going hiking and striving to meet her personal goals in the gym. In 2015 she competed a regional swimsuit competition representing Rock Hill, SC, where all proceeds went to a local children charity. Her typical Saturday night consists of enjoying the companionship of her friends, family and her young kitten, Oliver.