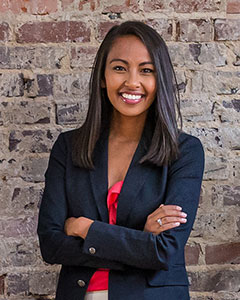 Keramilah Davis
---
Paralegal
Keramilah was born and raised in Jacksonville, NC. She comes from a family of six which has made her very family oriented. With two older sisters and one younger brother, Keramilah has grown up constantly competing with not only her siblings but on sports teams. Although she enjoys playing all sports and was a varsity letterman every year in high school and college, her favorite sport is soccer. Keramilah followed in her eldest sister's footsteps when she accepted a scholarship to play at the University of North Carolina at Pembroke Women's Soccer team.
While Keramilah attended UNC Pembroke, she was able to continue her love of the game of soccer while she got her degree in Criminal Justice. While at UNC Pembroke, she was an active member of Kappa Delta Sorority and the Student Athlete Advisory Committee. This is when Keramilah met her fiancé, Michael. Keramilah and Michael were both captains for the UNC Pembroke soccer teams and shared a mutual passion for the sport. After graduation, Keramilah and Michael both moved to Charlotte where they continue to play soccer on multiple adult co-ed teams. They are also actively planning a Spring 2016 wedding.
Before working for McIlveen Family Law Firm, Keramilah was a Store Manager at a high end retail store. She managed 3 assistant managers and anywhere from 35-75 associates depending on the season. As she frequently traveled to help out sister stores, Keramilah learned the importance of customer service.
After working with McIlveen for almost a year, Keramilah realized she wanted to continue her education so that she can grow as an individual and professionally. Keramilah went back to school to get her Paralegal Certificate from Charlotte School of Law and completed it in Summer 2015. Keramilah has been promoted to a paralegal, and her next goal is to become a North Carolina Certified Paralegal.
Keramilah is privileged to have grown up in a family with long married parents and is grateful for the wonderful example of love her parents have shared over the years. She has learned a lot about divorce through close friends and blending two families the more she spends time with her fiancé's family. As she continually learns about the changes of going through a divorce and blending families, the more she wants to use her experience to help others. Keramilah is dedicated to helping her clients have the smoothest transition possible.