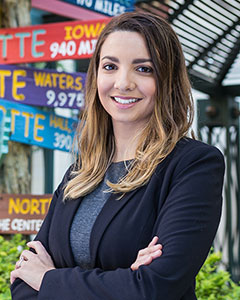 Maria Garcia
---
Receptionist
Maria was born in Mobile, Alabama and raised in Miami, Florida. As a child Maria really liked playing outside, hunting, and cooking. Growing up, she had a normal childhood until October 2005 when hurricane Wilma destroyed her home forcing her and her family to live in the salvaged half of the house for six months. This life event was one few of things that taught her the true value of family.
Now as an adult Maria lives in South Carolina with her family. Her parents are currently going through a separation while still continuing to remain on good terms due to her father's recent diagnosis of small cell lung cancer. These events have given Maria a very different perspective on family which makes her a valued asset to the McIlveen team.
In September 2016 we were delighted to offer Maria a position at the firm and she came in with a bright attitude and high motivation to succeed.
Although Maria's true passion lies within Biology, she carries a spot in her heart for family law. She is currently working on a Bachelors in Environmental Engineering with aspirations to one day create new ideas using bio-mimicry which helps companies find solutions to everyday work space challenges using nature's time-tested strategies and patterns.