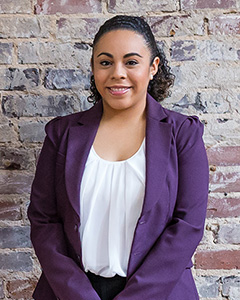 Silvia Mullinax
---
Paralegal
Silvia was born and raised in Northern New Jersey. Silvia was very grateful to have been raised by fun, loving and supporting parents. Growing up in a Hispanic household, Silvia learned to communicate very well in English and in Spanish. As the oldest sibling, she has tried to set a good example for her two younger sisters. In the summer of 2006, she and her family relocated to Gastonia, North Carolina. Due to the move, she had to leave her all-girl Catholic high-school and finish her high school career at Ashbrook High School. In 2009, Silvia graduated with her Associates Degree in Paralegal Studies. Silvia decided to continue her education at the University of North Carolina at Charlotte. In 2014, she graduated from the University of North Carolina at Charlotte with her Bachelor's Degree in Political Science and Criminal Justice. While in college, Silvia was an active member of the Mock Trial team and served as the secretary and vice president. She plans to further her education by coming a certified North Carolina Notary Public; additionally she plans to study diligently to take the LSAT and attend law school.
Prior to working at McIlveen Family Law, Silvia had five years of experience working as a personal injury and medical malpractice paralegal. She is familiar with legal terminology, different computer programs, and legal documentation. She enjoys helping the clients and tries to help them understand the process of their case. Based on her work experience, she knows what the clients are going through and she tries to help them with anything she can.
On February 26th 2015, Silvia and Josh welcomed their beautiful daughter Madison. In the summer of 2015, Josh and Silvia got married and she is ecstatic to be Mrs. Mullinax. Silvia loves to learn, bake, read fictional novels, try new restaurants and spend time with her little family. She also enjoys traveling, hiking, bike-riding and fishing. She is a huge sports fan of the New York Giants and Yankees, but she also supports the local teams like the Charlotte Knights and Checkers; as well as the Gastonia Grizzlies. Additionally, Silvia is also active in her church and involved in community and charity work.