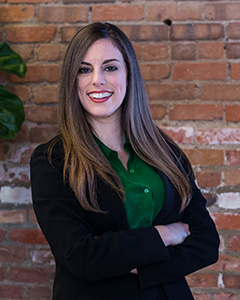 Tara Harrawood
---
Associate Attorney
There is no greater satisfaction, thrill, or sense of personal achievement to me than knowing I have helped another. Practicing family law gives me the opportunity to experience this feeling on a continual basis. People come to me at the outset and during some of the most difficult times in their lives; and it is my honor to be the attorney chosen to help them.
I was raised in Hudson, NC, a small town in the foothills of North Carolina, alongside my younger brother and two older half-sisters, and I treasure being able to call that small town home. I am fortunate to have loving parents that always encourage me to follow my dreams, no matter how far-fetched, and taught me from an early age the value of honesty, hard work, and, most importantly, people – lessons I still adhere to today.
When I left the nest, it was to head East to Pirate Nation. I received by Bachelor's in Business Administration from East Carolina University (GO PIRATES!). When I wasn't busy working one of several jobs during college, I served as the Honor Council President, the Honors Program Liaison, a member of Epsilon Sigma Alpha Service Sorority, and a listening ear and guiding presence to any of my friends that would listen to my advice. During my senior year of college, I decided to put my knack for opinions and advice to work and attend law school. There, I met my husband who is a huge fan of my, often unsolicited, advice. While at Elon, I served on the boards of the Public Interest Law Society and the Family Law Society. I also served in multiple clinics offered by Elon and was the recipient of the Clinical Legal Education Association's Outstanding Clinical Student Award. One of the clinics was the Humanitarian Immigration Law Clinic. While my business in the clinic, strictly speaking, was immigration, my true business was families. I aided refugees and asylees with Form I-130s which allow them to petition family members to the United States from their home country.
In addition to my work in law school and clinics, I completed an internship with the Children's Law Center of Central North Carolina – a nonprofit Guardian ad Litem service for children in domestic violence and high-conflict custody situations. I was involved with custody cases from start to finish, including interviewing both parents, sitting down and talking with each of the children, home visits, and making final recommendations to the court regarding the best interest of the children. From this point on, I knew that family law was the place for me.
After law school, I worked as an Assistant District Attorney prosecuting cases in district court. Much of that work involved negotiations and compromise, the very backbone of successful family law cases. When my husband's job took us to Miami, FL, I worked for a firm where I gained valuable civil litigation experience. I enjoyed my work in criminal law and general civil litigation, but when it was time to come home, I knew family law was where I needed to be.
Families, however they are made up, are a powerful, inescapable, fundamental part of life, and no one can guarantee that those family dynamics will forever remain the same. Many people that need a family law attorney have no idea how or when to make the decision to retain an attorney or what lies ahead once the decision has been made. It is my personal mission to chart out the path for them, which includes making them aware of all the bumps and unexpected twists and turns we may encounter along the way. I don't believe in keeping clients in the dark; you should be aware of everything that is happening in your case at all times.
I am and always have been passionate about serving people and being a voice for my clients. Coming from a blended family myself, I am no stranger to the products of divorce and child custody issues. I know first-hand the importance of a solid, sincere family law practice. The most powerful tool I can provide my clients is knowledge of the law so that they are able to make informed and educated decisions each step of the way. I understand that each case is delicate and unique and I am dedicated to providing my clients with the compassionate representation they deserve while navigating some of life's most difficult situations.
AWARDS
People Helping People – SECU, 2006
Certificate of Achievement for 75+ Hours of Pro Bono Work – NC Bar Association, 2012
Outstanding Clinical Student – Clinical Legal Education Association, 2012
MEMBERSHIPS AND AFFILIATIONS
North Carolina State Bar
North Carolina Bar Association, Family Law Section
American Bar Association
Gaston County Bar Association
Charlotte Women Attorneys
EDUCATION
East Carolina University
Elon University School of Law